Art Direction

UI/UX

Interation Design
The perfect drive starts here
Every Maserati, constructed with the utmost attention to detail, is a true masterpiece of Italian Design. Both for the road and for the race track, Maserati has built some of the most extraordinary automobiles the world has ever seen.
B-play, an independent creative group active since 2005 under the name of Bellissimo Vision, has been approached by Maserati to produce and redesign the mobile version of its Build & Price Configurator.
This App aimed to extend the use of the configurator and to attract a broader audience.

A B C D E F G H I J K L M N O P Q R S T U V W X Y Z
a b c d e f g h i j k l m n o p q r s t u v w x y z
A B C D E F G H I J K L M N O P Q R S T U V W X Y Z
a b c d e f g h i j k l m n o p q r s t u v w x y z
I've been taking care of the crafting of the UX/UI of the App.
For the User Experience, I've found an effective way to organize
all the different informations without compromising their clearness.
As for the UI, I've chosen to use an elegant but also modern style.
Build & Price
Product configuration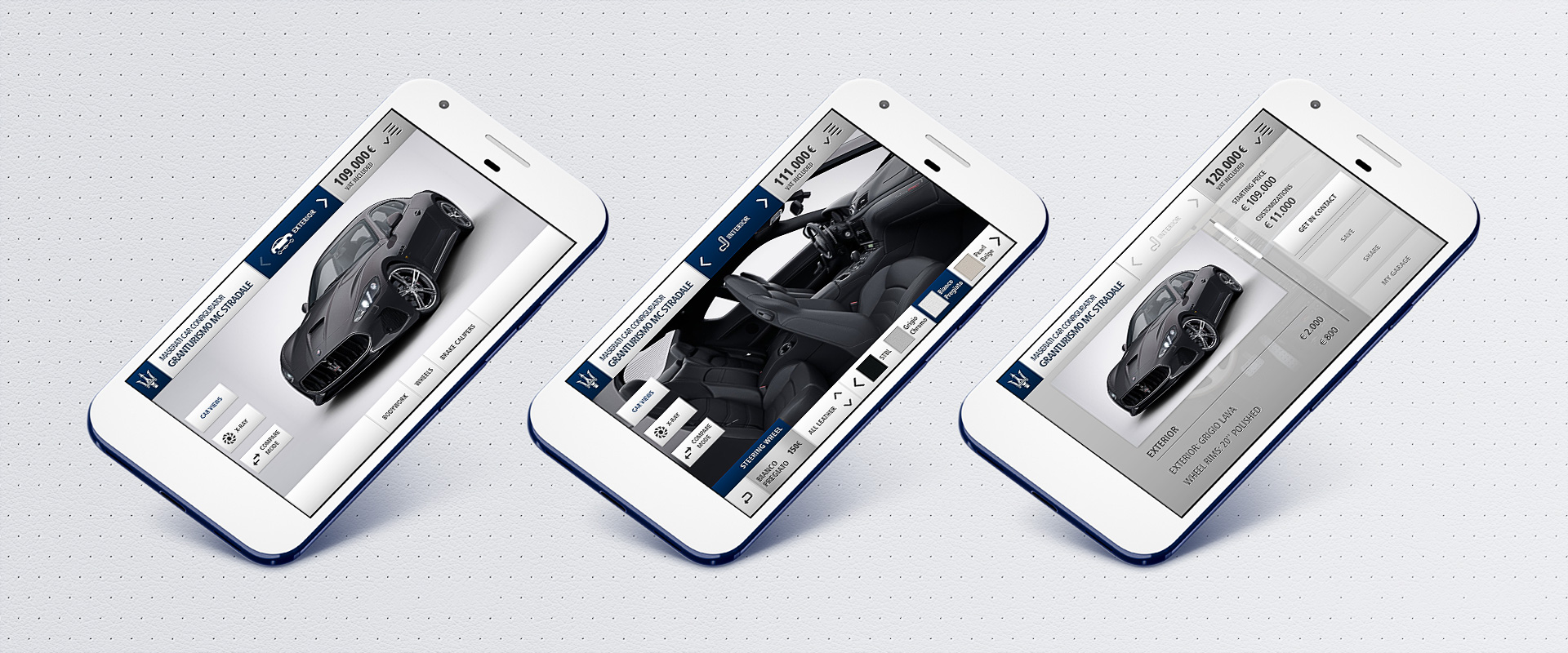 With this application you can create the Maserati that matches your lifestyle, driving style and personal tastes.
You can easly build your very own car through three main phases: exterior, interior & optionals. Then for each phase you can choose a lot of various options such as, body colors, wheels & rims types, brake calipers, interior fabrics.
At the top, are displayed all the main informations, from the model you're customizing to the price information.
On the left side of the user interface, you can choose multiple angle views of the car to make the experience more engaging.
You can also activate the X-Ray view to not let you miss any details.
As final result, the audience navigate on the fly, through a clean and essential interface but really powerful.